By Kate Tracy  –  Reporter , Denver Business Journal-Dec 22, 2022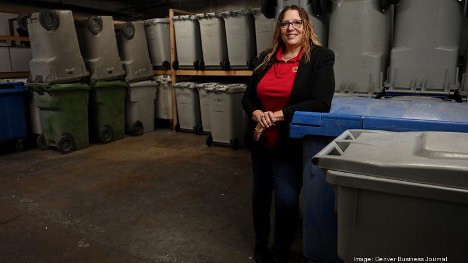 A long-standing nonprofit in Denver's Baker neighborhood is looking to build affordable housing where its current headquarters stands.
Bayaud Enterprises, a 53-year-old Denver employment agency located at 333 W. Bayaud Ave. has submitted concept plans to demolish its existing building. In its place on the 0.58-acre site, the nonprofit wants to construct a new, four-story building that would include 60 units of permanent supportive housing for individuals without homes, according to public plans filed with the city.
Tammy Bellofatto, Bayaud's current executive director, told the Denver Business Journal that this project was originally the dream of David Henninger, who founded the nonprofit in 1969.
"It's been his vision for the last 10 years or so: to be able to do a project like this," Bellofatto said.
The units would be available to individuals making less than 30% of the area median income. The new building would also include a ground-floor residential amenity and 3,500 square feet for the nonprofit's services and a 10,000-square-foot office space on the second level, according to plans.
The new building would also house a food bank for residents and community members, Bellofatto said.
Bayaud offers job training and services to help individuals with disabilities or individuals struggling with homelessness, including offering a document-shredding business.
Bayaud is enlisting another nonprofit, Atlantis Community Foundation, to help it build the proposed project. Atlantis recently completed a 144-unit building a block south of Bayaud's current property.
Pat Coyle, executive director of the Atlantis Community Foundation, said his organization's mission of serving people who are disabled or are struggling with homelessness aligns directly with the efforts of Bayaud Enterprises.
Bayaud Enterprises already helps with case management and provides mental health services for residents at two Atlantis Community Foundation buildings in the neighborhood, something Bayaud will also do at the new building.
"It just made sense to include that in the property, along with employment services and also other supports that help people become self-sufficient," Bellofatto said.
Coyle said the location at 333 W. Bayaud was ideal for the new affordable housing and supportive services building because of its proximity to an RTD light rail station and nearby job opportunities. The area has a large population of people experiencing homelessness and in need of a food bank and the training services that Bayaud provides, he said.
"Baker is certainly a redevelopment area, it's increasing in values and it's a good area to balance with housing opportunities for a full spectrum of income," he said.
According to Bellofatto, a participant back in the 1970s suggested the nonprofit name itself after the street where it was located.
"We wanted to continue that legacy of Bayaud on Bayaud Street," Bellofatto said. Bayaud bought its current property in Baker in 2003 for $1.6 million, according to property records.
If Bayaud receives funding for the new building, Coyle is aiming to start demolition of the current structure by the end of 2023. He expects construction costs to be approximately $28 million.
Bayaud and Atlantis hope to secure funding through the Colorado Housing and Finance Authority and other state and city funding programs.
Shopworks Architecture is incorporating trauma-informed design in the new building, according to Bellofatto.
Bayaud plans to move its administrative offices to its other location at 1550 Dover St. in Lakewood, Bellofatto said.
Image Credit: Tammy Bellofatto poses for a portrait at Bayaud Enterprises on November 2, 2022, in Denver. SETH MCCONNELL | DENVER BUSINESS JOURNAL